Saturday, December 20, 2003
DeLay Founds New Charity?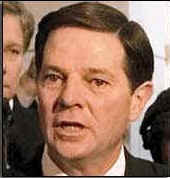 I received this unsolicited email--and I'm not sure, but I think it might be from Tom DeLay. The message seems to concern his new charitable endeavor, "baby save charity home." I don't know much about it as of yet, except that it appears to be a faith-based initiative. I expect more information will be forthcoming soon at the
Celebrations for Children, Inc.
website.
Hello,

I am [Rep. Tom DeLay (R-TX)], a carpenter by profession. Founder of baby save charity home. I was born in a small village in Enugu State Nigeria. I was dumped and abandoned in the bush with my left wrist slashed with a razor by my ignorant mother. Ants eat my tender nails and inflicted a serious injure to my lefteye ball. The left eye is now dead. A Farmer Found me in the bush and saved my little life. Most of the babies are not as luck as I am, some are stabbed in heart, thrown into the river or buried alive.

I've always cherished babies even as a boy that's growing up. I always wanted to lend a helping hand to babies that were abandoned to die and orphans. I announced that instead of killing these babies that they should bring them to my house that I will care for them. Within two months I had fifteen babies dumped at my door step in the night. God bless that day I picked the first baby from the door step.
Unbelievable. The man is a saint.