Tuesday, December 30, 2003
"He seems to be crawling through the underbelly of crony capitalism."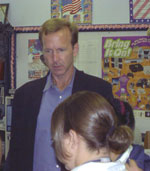 The Relatively Charmed Life Of Neil Bush
Despite Silverado and Voodoo, Fortune Still Smiles on the President's Brother

Ignite! is designed, Bush said, to make learning fun for "hunter-warrior" kids who don't like reading. It's a computer curriculum that uses music, graphics and animation to teach middle school kids.

...However, Ignite! has been attacked by other educators for dumbing down history. Among its controversial aspects is a lesson that depicts the Seminole Wars in a cartoon football game -- "the Jacksons vs. the Seminoles" -- the animated Indians smashing helmets with animated white settlers. The Constitutional Convention is taught in a rap song:

It was 55 delegates from 12 states
Took one hot Philadelphia summer to create
A perfect document for their imperfect times
Franklin, Madison, Washington -- a lot of the cats
Who used to be in the Continental Congress way back.

Ignite! is working well, Bush wrote in an e-mail: "Teachers and students have given anecdotal feedback that confirms the powerful impact our program is having on student achievement, student focus and attitudes, and teacher success in reaching all of their students."

But at Whitney reviews were less laudatory. "The kids felt pretty strongly that what this was about was lowering the bar," says Humes.

Humes wasn't impressed, either. "There was a lot of rhyming and games," he says. "It reminded me of what my son uses -- but he's in kindergarten."

When Bush spoke at Whitney, several students began arguing with him.

"He was very surprised," Humes recalls. "You had to see the look on his face when one young woman got up and said she liked calculus. He said it was useless. This is the branch of mathematics that makes space travel possible, and he said it was useless."
Full story
.