Sunday, March 28, 2004
Karen Hughes: "Profiteering" on book deal and fee-based speaking engagements
From
Dawkins
:
But for the next six weeks, she will cross the country on a 16-city book tour that will have the effect of a publisher-subsidized campaign trip. On Monday night, the day before her book is in stores, Barbara Walters will interview her on ABC. The same day, Time magazine will publish excerpts. Viking, Ms. Hughes's publisher, will not say how many copies of "Ten Minutes From Normal" it is printing, but describes its publicity campaign as extensive.

Ms. Hughes, 47, has already spread the message about Mr. Bush in her speeches around the country, for which she receives $50,000 each, according to a person familiar with her contract.

"She's involved enough in the campaign message to incorporate that into all of her speeches," said Nicolle Devenish, the Bush campaign's communications director. Ms. Hughes's speeches have evolved since the early Democratic primaries, Ms. Devenish said, into more pointed comments about Senator John Kerry, the presumptive Democratic nominee.
Now imagine if Richard Clarke were specifically integrating his book tour with his advocacy for a particular candidate in the presidential campaign. Imagine, additionally, if Richard A. Clarke were simultaneously receiving $50,000 per speech in which he denounced the candidacy of George W. Bush and promulgated the candidacy of his preferred candidate. How would Republicans react to that?
Karen Hughes is right now doing both of these things: tying her book tour to the Bush campaign, and profiting to the tune of $50,000 per speech on her position within the administration WHILE she continues to advise Bush and campaign for him.
How the
fuck
can
that
be legal/ethical?
Hey,
Bill Frist, sanctimonious shit
, don't you agree that Karen Hughes is "profiteering" with her book?
Will you denounce her on the floor of the Senate like you denounced Richard Clarke?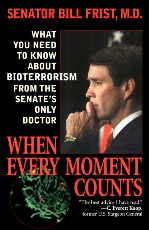 Write a review
.
Dawkins
submits the following review:
On Friday, March 26, Bill Frist took to the Senate floor to denounce Richard A. Clarke, belittling the 30-year public servant's heartfelt apology to the families of 9/11 victims, attempting to impugn his professional reputation, and accusing him of "profiteering" with his book, "Against All Enemies: Inside America's War on Terror."

Meanwhile, Frist has traded shamelessly on his position in the government, cynically fanning the public's fears of terrorism to drum up sales of his own book, "When Every Moment Counts: What You Need to Know About Bioterrorism from the Senate's Only Doctor."

"Profiteering," indeed, Mr. Senator.

Don't encourage this kind of sanctimonious political hypocrisy. Don't buy Frist's book. Buy Clarke's instead and really learn something about the "war on terror."