Tuesday, April 27, 2004
AmCop Exclusive!
Karen Hughes fucks horses.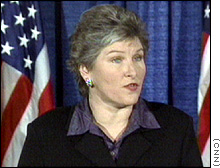 AmCop
has learned that Karen Hughes, soccer mom, level-headed advisor to the President, fucks horses.
Developing...
Update:
"I think after September 11, the American people are valuing life more and realizing that we need policies to value the dignity and worth of every life,'' Hughes said.

"And I think those are the kind of policies that the American people can support, particularly at a time when we're facing an enemy, and really the fundamental difference between us and the terror network we fight is that we value every life,'' Hughes said.