Thursday, June 03, 2004
Bush, the Christian, is born again each new day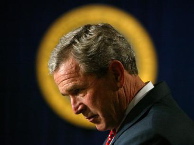 Dawkins
writes:
On Memorial Day
at the Tomb of the Unknowns at Arlington National Cemetery, George W. Bush "saluted all those Americans who had given their lives in military service." He laid a wreath and "acknowledged the 'great costs' of the war in Iraq." He said that the veterans of wars past and present would "carry with them for all their days the memory of the ones who did not live to be called veterans."
(Bush was introduced by Defense Secretary Donald H. Rumsfeld, who got a round of applause from the crowd and responded by saying "Wow." Bush thanked Rumsfeld for his "great leadership.")
Then Bush read from a letter written by Pfc. Jesse A. Givens to his wife and children, to be read in the event of his death. Private Givens, of Springfield, Mo., was 34 when he was killed on May 1, 2003, when his tank fell into the Euphrates River after the bank on which it was parked collapsed.
Meanwhile, on that day in Iraq, two American soldiers died. They joined the legions who have died for Bush.
Bush seems to love these deaths of soldiers. He seems to revel in these "ultimate sacrifices."
Perhaps he believes that the blood of slain soldiers sanctifies his heart, cleansing it of sin, in the way that the blood of Jesus Christ cleansed his heart of sin. Perhaps he believes that these soldiers pay the ultimate price with their blood so that he, their humble servant, might be free of sin.
Perhaps he believes that God so loves him that he gave not only his one and only Son, Jesus Christ, but that he gives him one or two or maybe even three or four American soldiers to die for him
each and every day
, that if he merely believes that their sacrifice was noble, and for the causes of freedom and democracy, he shall not perish but have eternal life.
Perhaps he believes that each soldier who gives his life for him
is
Christ, slain and risen, for him. Each day a soldier dies for him, he's born again in the blood of the lamb. Each day for him is Easter.
How can a man for whom Christ dies anew each day not feel the power -- the wonder working power -- in the blood of the Lamb, and not strive to feel that power again and again, so that ever more young Christs might die for freedom, and democracy, and for him?
He is clearly our
most Christian
president ever.