Tuesday, June 22, 2004
Republicans Consider Tops, Bottoms
"So far, it's really been a top-down issue," said Sen. John Cornyn (R-Tex.), a strong opponent of gay marriage who has used his chairmanship of a Judiciary subcommittee on the Constitution to hold three hearings on the proposed Federal Marriage Amendment.

Though he is convinced that gay marriage is going to be a "huge" issue, Cornyn said, "what it's going to take is some more bottom-up concern about whether people are losing control of their lives."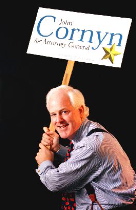 Cornyn, yearning for some "bottom-up concern."