Wednesday, July 14, 2004
The truth about the Kerry-Edwards NYC fundraiser
There's been a lot of misinformation about last Thursday night's gala concert and fundraiser for Kerry-Edwards at Radio City Music Hall in NYC. There have been members of Congress shouting from the floor that the Kerry campaign ought to provide a videotape of the concert to "come clean" about the events that took place. The Bush campaign is sending "open letters" demanding that Kerry "release the performance." And there's a general impression even among Kerry-Edwards supporters that, indeed, the evening was a three-hour, libertine raunchfest, MCed by a sex-pun-frenzied Whoopi Goldberg.

That's all wrong. I was there, for real. Here's what actually happened (to the best of my sex-pun-frenzied memory):
The capacity crowd fills the Music Hall by about 7:30pm.
At about 7:45pm, Kerry and Edwards appear on the stage, the crowd goes wild, and the candidates step off into the orchestra seating area to shake hands and embrace their supporters. They take their seats (Kerry next to his wife on one side and
Rolling Stone
editor and the show's co-producer Jann Wenner on the other), while the crowd remains in an optimistic, patriotic tizzy.
A spotlight opens on a balcony above stage right where Jon Bon Jovi stands with acoustic guitar. He plays an acoustic version of "Livin' on a Prayer" followed by a low-key "It's My Life." He then takes the stage, and -- accompanied by keyboard and violin -- plays an inspiring cover of the Beatles' "Here Comes the Sun."
Bon Jovi introduces Paul Newman, who decries the inequity of the Bush tax cuts and declares that "tax cuts to wealthy thugs like me are borderline criminal."
(No "
X-rated rant[s] full of sexual innuendoes
" thus far.)
Around this time, Wyclef Jean comes out and plays a whimsical song called "If I Were President," and soon after is joined by Mary J. Blige. The crowd goes berserk for Blige, who, with Jean's band, sings a moody ballad that touches on the dire state of the country and summons the outrage New Yorkers felt on 9/11 and the outrage that persists to this day.
Jessica Lange comes out and discusses the need for a candidate who can restore America's conscience.
The next musical act is John Mellencamp, who, even non-Mellencampers had to admit, rocked pretty hard. He kicked off with "Small Town," his tribute to down-home American values (and erstwhile theme song of John Edwards' primary campaign).
Mellencamp then stripped down to acoustic to play the shambling, impromptu-sounding "Texas Bandito," (or,
as reported by the New York Post
, "Texas Bambino"). The song was a thinly-couched denunciation of a certain "cheap thug" and phony cowboy who gets his way by bullying others around and is generally ruining the country.
Mellencamp was then joined by Bon Jovi for a stomping version of "Pink Houses" (a.k.a. "Ain't That America"), an electric celebration of the ups and downs of pursuing the American "dream."
(Jokes aside, Mellencamp seems pretty cool. His music is better than you remember, and his left-of-center political ethic seems genuine. Read this
fascinating interview
, and maybe even
buy one of his CDs
.)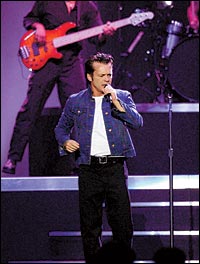 Chevy Chase did a monologue about Bush being dumb, and somewhere in here Whoopi Goldberg came out for her now-notorious "
Dirty Diss at Dubya
."
She talked for about 10 minutes, lucidly, convincingly, about the problems facing the country and the problems with our current leadership. She veered off for about 30 seconds into a not particularly funny, nor particularly vulgar riff on the multiple meanings of the word Bush ("Everyone loves Bush… I don't mean THAT Bush!" etc.) And she concluded with inspiring words for Kerry and Edwards to take on the campaign trail.
Not long after, Meryl Streep delivered a brilliant, simple -- albeit sheepish -- denunciation of the cynical appeals to religion made by certain national politicians. She read through several of Christ's teachings from the Sermon on the Mount, pointed out the ways in which George W. Bush has failed to honor those lessons, then asked a series of rhetorical questions about Bush's further disparagement of the Christ-ian legacy: "Would Jesus attack another country pre-emptively? Would he approve the dropping of bombs on innocent civilians…?"
The point was well made, but Streep's speech went over in the concert hall like a lead balloon: scant applause, nervous murmuring. This was certainly -- in this eyewitness' estimation -- not a result of the frailty of her arguments but perhaps more a function of the frailty of the collective stomach of even an open-minded, enthusiastic liberal crowd when it comes to discussion of religion.
Between several of the speeches, the Dave Matthews Band came out and gave a crowd-pleasing rundown of some of their hits ("Too Much," "Ants Marching," etc.). Matthews himself spoke for a while, not on anything in particular, kind of a strange mumbling jag, but his music was well-received and accompanied by much dancing and merriment.
The comic John Leguizamo, in cornrows, riffed humorously for a while about identity politics ("Latins for Republicans? That's like roaches for Raid") before Mellencamp came out to introduce the (sort of) surprise headlining act: the former Creedence Clearwater Revival rocker John Fogerty.
After a mellow rendition of his new anti-Iraq War anthem "Déjà Vu (All Over Again)," anticipation built for one Fogerty's great, politically-slashing songs from the 1960s.
Thankfully, he obliged by playing "Fortunate Son," but devastatingly, a guitar malfunction prevented him from being able to tear out the song's clarion guitar riff. He sang through it, gamely, spitting out the ever-salient lyrics, with a slight update ("It ain't me!… It ain't me!… I ain't no
President's
son… naw, naw, naw…")
After the Fogerty set, the Kerrys and the Edwards took to the stage. John Edwards gave a gleaming introduction of the future President, and John Kerry returned the favor by praising his running mate, and saluting all of the night's performers and monologists.
Apparently, his claim that the performers "conveyed to you the heart and soul of our country" (which they did) has become very controversial. The Bush campaign has shat out more than one email denouncing that sentiment (and also calling the concert a "hate fest"). But Kerry said it, he meant it, and from my vantage point, what he said was precisely true.
Teresa Heinz Kerry spoke for a bit, as did Elizabeth Edwards, then the whole troupe of Kerrys, Edwards, singers and players came on stage for a rousing group sing-along of Woody Guthrie's "This Land is Your Land," complete with John Edwards dueting with Mellencamp, and John Kerry strumming rhythm guitar in the background.
All told, the event affirmed the greatest and truest of American values (community, patriotism, integrity, diversity, family, faith, and freedom of expression) netted $7.5 million for the campaign (a record for any event, Democrat or Republican), and demonstrated the irresistible power of the Kerry-Edwards ticket -- which are certainly the reasons the Republicans are getting so upset about it.