Saturday, August 28, 2004
Reclaim your city from the Living Dead!
Courtesy of
Zombie Flash Mob
:
From August 30 to September 2, the streets of Manhattan will be overrun by mindless ghouls whose only goal is to suck the sweet, delicious marrow from the bones of your beloved city. Will you stay quiet while they take over or will you resist?
ZOMBIES OF NEW YORK, RISE UP AND REPEL THE REPUBLICAN MENACE -- THURSDAY, SEPTEMBER 2nd AT 11PM!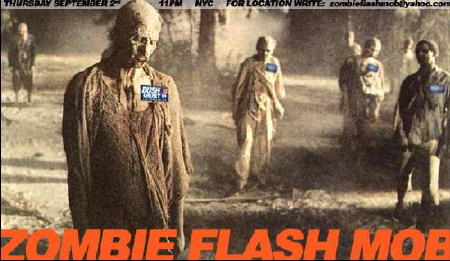 The plan is simple: to illustrate the mindlessness and murderousness of the Republican Party and George W.Bush, and to celebrate their finally leaving our fair home, we will:
- gather at 11PM in a public place near the convention
- act like zombies* for five minutes
- creep out everyone who happens to be watching
- stop and calmly leave like nothing ever happened
- get stinking drunk at a nearby bar
TO PARTICIPATE: you must write an e-mail to zombieflashmob@yahoo.com in order to receive an automatic confirmation and to receive final instructions on the afternoon of September 2nd. You may also receive additional information from this address should events require.
NO ONE BREAKS ANY LAWS, NO ONE GETS ARRESTED.
Costumes/Makeup are encouraged, but remember: minimalism is better as extensive costuming may violate the NYC Mask Law, which prohibits more than three people from wearing "disguises" in public. They may also hinder a quick getaway, if required, so be careful! (Maybe a little powder and some blood running from the mouth? That's always a lovely touch.)
TELL YOUR FRIENDS! TELL YOUR FAMILY! TELL EVERYONE YOU KNOW IN NEW YORK CITY! (UNLESS THEY'LL BUST US OR SOMETHING!) POST THIS ON FRIENDSTER AND MYSPACE! WE NEED AS MANY BODIES AS WE CAN GET!
Yours,
Bub the Zombie
* We mean Romero-style zombies here, not those new-fangled "28 Days Later" zombies that run andscream and stuff. Slow, creepy, lurching, moaning-type zombies -- that's what we're after, OK?