Sunday, August 01, 2004
Stand up, holla, and die!
Says a recent Bush-Cheney campaign email:
The 2004 Republican National Convention and MTV's "Choose or Lose" campaign last week announced the 10 finalists for the "Stand Up and Holla!" essay contest. The contest is part of a comprehensive plan to energize America's youth and empower them to take part in grassroots efforts on behalf of President Bush.

…

Your votes will help send one of them to New York City where the winner will be announced on MTV's TRL on August 16 and participate in the 2004 Republican National Convention.

1. First of all, MTV should be fucking ashamed for having anything to do with this.
2. USA Today should be doubly ashamed for printing Ed Gillespie's metabolic waste on its pages in this "Editorial/Opinion" piece ("
Bush's agenda rocks
") which advertises the contest.
3. The Republicans owe AmCop an apology for stealing the nickname of our ace photo-journalist,
Stand Up and Holla!
4. All AmCoppers should visit the Stand Up and Holla!
finalist page
to meet the 10 finalists, watch their video entries, vote for your favorite, and then Stand Up and Holla! at God, begging him to bestow mercy and send lightening to strike us all dead.
Finalist Highlights!
1.
Clarence Dass
, Age 18, Bloomfield Hills, Michigan, Wayne State University: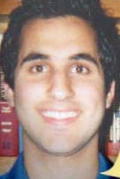 "…in 2001, I urged my family to launch an organization that service hundreds of Middle Eastern denominations and defeated racial profiling within the United States…"
2.
Adam Hunter
, Age 20, Somerset, New Jersey, Howard University
"...The youth all across America have answered the call to be leaders in their own community. We have poured out our love for our country by teaching a young child to read…"
3.
Princella Smith
, Age 20, Wynne, Arkansas, Ouachita Baptist University
What about President George W. Bush's leadership inspires you?

"…He can sit in a chair and discuss foreign policy with you, and in the same seat converse with you about sports over a cheeseburger…"
Fun Fact!
In response to the question "what singer or band would you want to see if you were in the audience of MTV's TRL?", the finalists repeatedly cited bands (Dave Matthews Band, U2,
Maroon Five
,
Aerosmith
) demonstrably supportive of John Kerry and hostile to the reelection of Bush.