Monday, August 23, 2004
USA Snapshots: A Visual Stethoscope on the Pulse of America
by
Stand Up and Holla!
Although Silverlake is a popular neighborhood with L.A.'s arts community and many of the city's gay activists, first and foremost it's a Latino neighborhood where the majority of residents are Mexicans. Anyways, it was fun to see 2 different organizations out there pushing for Latino support right across from one another.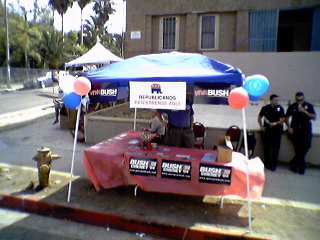 Although the "Viva Bush" tent didn't seem to get a single visitor the whole day (maybe the cops assigned to keep people from trashing the tent scared any prospective recruits away?), the Rough Trade Home Video tent -- featuring a Mexican porn star named "Mario" hawking his latest feature (I shit you not: "Pokin' in the Boys Room") -- was a mob scene the entire afternoon.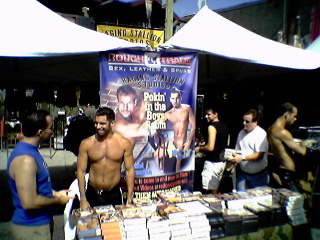 Bush should clearly rethink his plan to attract Latin voters if he wants to woo them by November.
I walked around and checked out the rest of the booths after watching a set by an excellent L.A. band called Dengue Fever, which is a quirky indie-rock band fronted by a Cambodian pop star.
These baby outfits were selling like hotcakes,
which was inspiring, until I noticed that the tent next door was doing almost as well as Mario's.