Friday, August 26, 2005
Terrism
When I read
this story
this morning it was preposterous enough:
In what Fox News officials concede was a mistake, John Loftus, a former U.S. prosecutor, gave out the address [of Randy and Ronnell Vorick] Aug. 7, saying it was the home of a Middle Eastern man, Iyad K. Hilal, who was the leader of a terrorist group with ties to those responsible for the July 7 bombings in London.
But the full meaning of the story didn't hit me till I saw this (thanks to
el serracho
):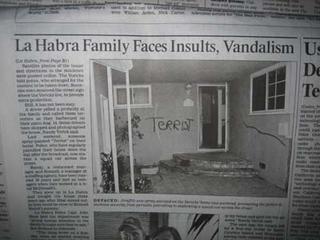 Yes, the grafito on the Vorick home reads "Terrist."
As if one needed any more sad irony, John Loftus is the author of the book
The Secret War Against the Jews
.
Can the pathology motivating the author of "Terrist" be much different from that which moved people to paint swastikas on synagogues and the homes of Jewish people?