Wednesday, November 26, 2003
Li'l Orrin Done Made a Sin...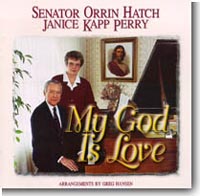 WASHINGTON (Reuters) - A top U.S. Senate Republican expressed "deep regret" on Tuesday in announcing that an internal investigation of computer records found one of his staffers had "improperly accessed" Democratic documents.

Judiciary Committee (news - web sites) Chairman Orrin Hatch said he placed the staffer on administrative leave with pay pending a separate probe by the Senate sergeant at arms, Bill Pickle.
[
Don't worry
, folks, I'm sure
Bill Pickle
can handle this.]
Hatch, who had initially ridiculed the allegations, also said a former staffer "may also have been involved," but declined to identify either person by name.

The disclosure came a week after congressional law enforcement authorities began looking into what Democrats called an apparent computer theft of 14 staff memos critical of President Bush (news - web sites)'s embattled judicial nominees.

The Democratic memos were quoted in The Wall Street Journal and The Washington Times earlier this month.

Hatch had suggested that the memos had been turned over to the news media by a "conscience-stricken" Democratic staffer.
Who's
"conscience-stricken"
now, Li'l Orrin? I'll tell you who
isn't
:

"Orrin, every time you lie, I weep. You done me wrong, Orrin. I'm 'shamed of you. I still love you, but you're a bad little boy. A bad, bad boy, Orrin."
Reality becomes a George Saunders story
"It has been a proven home run in market after market," said Brian Check, a regional vice president of programming for Clear Channel Communications at WSNI-FM in Philadelphia.

"Maybe it's the mood of the country. Maybe after 9/11, and with the war, people want an early pick-me-up, I'm not sure," he said. "But audience demand is what's driving this."
It's really true:
everything changed after September 11th. (Now answer me this: are you gonna keep being a sourpuss
September 10th American
, or are you gonna go
All Christmas
along with everybody else??)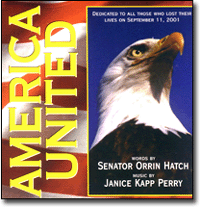 Democrat-Terrorists Embark On Yet Another Failing Attempt to Thwart the Will of God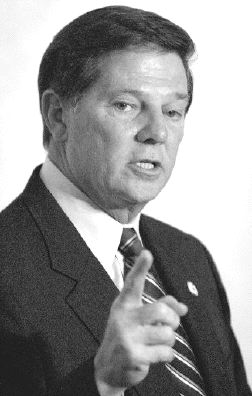 Jury Holds Inquest into DeLay's PAC
No, it's not
Celebrations for Children
that is being investigated by a grand jury. Rather, it's
Texans for a Republican Majority
.
A Texas grand jury investigates U.S. Rep. Tom DeLay's political action committee. They're considering whether corporate contributions to the PAC were spent illegally on political campaigns in Texas -- races that gave Republicans a majority in the state and solidified support for DeLay, the House majority leader.
At first I was confused by this story: is it new? Not new? What about the
subpoenas
in the investigation into DeLay's use of federal Homeland Security resources in his
state-legislative manhunt
this summer? How many of these investigations are there? And what becomes of them? Is there
anything
that DeLay has ever touched that doesn't
stink of some form of criminality
? Does he have clean dealings with
anything or anybody
? In any case, here is a little background:
Yesterday:
Lawmakers seek to quash redistricting subpoenas

Attorneys for House Majority Leader Tom DeLay of Sugar Land and Rep. Joe Barton of Ennis are to go to court today in Marshall to ask a three-judge federal panel to quash subpoenas from Democrats who want the lawmakers to give depositions in the contentious congressional redistricting case.
November 18, 2003:
DeLay fund-raiser on eve of trial raises eyebrows

AUSTIN -- On the eve of the federal trial that could enhance Republican congressional power, U.S. House Majority Leader Tom DeLay plans to scoop up re-election cash at an Austin lobby fund-raiser.

The Dec. 10 luncheon is scheduled the day before a three-judge panel begins a trial on the legality of a congressional redistricting map that DeLay, R-Sugar Land, pushed through the Texas Legislature earlier this year.

A dozen Austin lobbyists are hosting the event. Their clients include Verizon Wireless, Accenture management consultants, Waste Control Specialists, the Texas Medical Association and the Texas Association of Realtors.
June 7, 2003:
Democrats, Group Seek Probe of GOP, Westar

In May 2002, Westar made a corporate contribution of $25,000 to DeLay's Texans for a Republican Majority PAC, a Texas committee that supported Republicans running for the legislature.
March 25, 2003:
From DeLay, the Sounds of Silence

House Majority Leader Tom DeLay (R-Tex.) doesn't want to talk about a Texas grand jury's probe that includes questions about the operations of "Texans for a Republican Majority," a political action committee he helped found.
It goes all the way back, too. DeLay's just always been doing shit like this. It's the only way he knows how to operate. It's his God-given fucking right, right? How could he do anything that God didn't command him to do?
October 2, 1998:
Tom DeLay Gets Federal Investigation -- of Tom DeLay!!

Less than two months later, a complaint was filed with the Federal Election Commission containing allegations by Cloeren that in 1996, DeLay helped orchestrate a series of contributions by Cloeren in such a way that they would circumvent contribution limits to Babin's campaign.
What's really amazing to me is that with all his
Celebrations for Children
-related charitable activities, DeLay has any time at all left for
crushing Democracy under the heel of his unstoppable, unaccountable corporate-theocratic boot
.
Happy Thanksgiving!