Friday, April 23, 2004
A Weird Moment
From the AP
Why Peepul Hav a Stoopid?
College Park, MD: According to a new PIPA/Knowledge Networks poll, a majority of Americans (57%) continue to believe that before the war Iraq was providing substantial support to al Qaeda, including 20% who believe that Iraq was directly involved in the September 11 attacks. Forty-five percent believe that evidence that Iraq was supporting al Qaeda has been found. Sixty percent believe that just before the war Iraq either had weapons of mass destruction (38%) or a major program for developing them (22%).

Despite statements by Richard Clarke, David Kay, Hans Blix and others, few Americans perceive most experts as saying the contrary. Only 15% said they are hearing "experts mostly agree Iraq was not providing substantial support to al Qaeda," while 82% either said that "experts mostly agree Iraq was providing substantial support" (47%) or "experts are evenly divided on the question" (35%). Only 34% said they thought most experts believe Iraq did not have WMD, while 65% said most experts say Iraq did have them (30%) or that experts are divided on the question (35%).
You know what we say?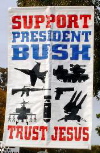 "To be nurtured back to be a wetland."
"This is the D-Day."
Tight, forward-leaning
Put A $ At Kerry
Kerry All Over the Purple
Weird, sinister clusterfuck
Wednesday, April 21, 2004
Attack = On Track
Prince Bandar, Bush Campaign Spokesman, Phones In
Your taxpayer money literally used to pay for the dissemination of Bush campaign propaganda via the IRS
Tuesday, April 20, 2004
America Over
Monday, April 19, 2004
Terrorists to Influence Election, cont'd.
"The Saudi pledge"
Daily Quiz: What Do the Words that Came Out of the Hole Under Bush's Nose Mean?
Whore Bearing Pearls
Rangel/Moon thing
Hot Off the Presses
Know About the 'Mercenaries'?
Terrorists to Influence Election
General adopts Bush "style" for press conference