Friday, October 27, 2006
You're flirting with liquid shit, Maryland
What the fuck is
wrong with you people
? Have you not LISTENED to the "words" that come out of Michael Steele's asshole ("mouth")?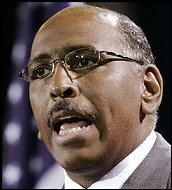 This is such a disgrace. It really blows my mind how ignorant people can be.
Remember
this
?
In an appearance Thursday before the Baltimore Jewish Council, Steele responded to a question about stem cell research by saying he was "cautious" about the idea of "tinkering around with life," and added:

"Look, you of all folks know what happens when people decide they want to experiment on human beings, when they want to take your life and use it as a tool," Steele said, according to a recording of the event. "I know that as well from my community and our experience with slavery."
Of course you don't remember--that was all of 8 months ago, i.e., never.
From the 2/11/06 Post
article
:
"Some people could think he's not moderate . . . but a hard-right Republican," said University of Maryland Prof. Ronald Walters, who has been closely following Steele's campaign.
Some people "could think" that? Uh, ya think??
Stupid fucking fuckheads.
Wednesday, October 25, 2006
Stupid Fucking Asshole
Tuesday, October 24, 2006
Republican Ho Threatens Cripple with Slap
Monday, October 23, 2006
Predictions, Everyone?