Friday, January 14, 2005
"Grassroots power"
Sun God?
Thursday, January 13, 2005
Thursday Cat Blogging
A poor choice of costume?
battle the forces of reaction from the comfort of your own home
Wednesday, January 12, 2005
DeLay/Tsunami Mailbag
Tuesday, January 11, 2005
Leave No "Behind" Behind
Borat Appears in Roanoke
Making Sense of the Tsunami: Some Perspectives
Why does it seem like so many of the public figures making comments about the "meaning" (i.e., the "religious" "meaning") of the tsunami disaster are talking about neither the human sufferers, nor the waves, nor meaning, nor religion, nor God, but rather chewing on their own turds, swallowing them, and then regurgitating the turds onto a microphone?
For instance,
this bishop
sounds to me like an asshole:
RAFAEL EPSTEIN: The Anglican Dean of Sydney, Phillip Jensen, is quoted in a newspaper saying that disasters are a part of God's warning that judgement is coming. What does that comment mean?

ROBERT FORSYTH: Firstly, I think the Dean said many other things that the paper did not publish, that disasters can function this way. And the Dean really is merely following the example of Jesus. I know this may shock people – when Jesus was asked about a natural disaster, a tower that had fallen on people, and people whom Herod had killed, they said to him, 'We're these people more sinful than the rest?' And Jesus wouldn't answer that sort of silly question. He said, 'Be warned, you will all perish unless you repent'. In other words, without explaining the diaster, even Jesus drew people's attention to let the disasters be a warning to them, of their own mortality and need to be right with God.
These non-Christian religious figures
sound to me like major sons of bitches:
"This is an expression of God's great ire with the world," Israeli chief rabbi Shlomo Amar told Reuters. "The world is being punished for wrongdoing — be it people's needless hatred of each other, lack of charity, moral turpitude."

Pandit Harikrishna Shastri, a priest of New Delhi's huge marble and sandstone Birla Hindu temple, told Reuters the disaster was caused by a "huge amount of pent-up man-made evil on earth" and driven by the positions of the planets.

Sheikh Ibrahim Mogra, a leading British Muslim cleric from Leicester in England said: "We believe that God has ultimate controlling power over his entire creation. We have a responsibility to try and attract god's kindness and mercy and not do anything that would attract his anger."
Jennifer Giroux, director, Women Influencing the Nation
sounds to me like someone with a knife sticking out of her throat:
Throughout history and reported early in the Bible, God has always used plagues, floods and natural disasters as a source of punishment.

One can talk about a sad lost generation over there in the disaster going on in Asia. We have a lost generation of 40 million aborted babies in this country that is being ignored by so many people. I believe that this situation that happens makes all of us look inward, realize God is ultimately in control of life and death.

Look at what we're looking with just in this country with cloning, homosexuality, trying to make homosexual marriages, abortion, lack of God in the schools, taking Jesus out of Christmas. I can't pretend to know the mind of God. But, historically, there have been warnings. And God, who is all-loving and all-good, and he will not be mocked.

And last but not least,
Tom Delay
sounds to me like vicious, baby-devouring, bloodthirsty murderer: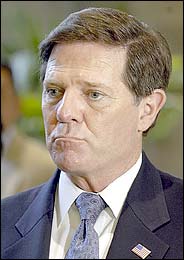 Everyone who listens to these words of mine, and acts on them, will be like a wise man, who built his house on a rock:

The rain fell, the floods came, and the winds blew, and buffeted the house, but it did not collapse; it has been set solidly on rock.

And everyone who listens to these words of mine, but does not act on them, will be like a fool who built his house on sand:



The rain fell, the floods came, and the winds blew, and buffeted the house, and it collapsed and was completely ruined."


These people have no fucking shame--none of them.

The motto for the past week should have been, "Send your $100, then shut the fuck up. Don't add to the world's misery by trying to make sounds come out of the hole under your nose."



And we thought Canada was so liberal...
"An Object of Love"
Monday, January 10, 2005
Succeeding Spitzer