Friday, September 03, 2004
The wronger you are, the crazier you have to act.
All I Needed to Hear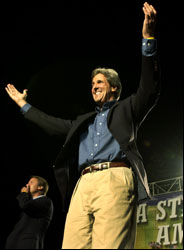 "Let me tell you in no uncertain terms what makes someone unfit for office and unfit for duty," Mr. Kerry said, turning to Mr. Bush. "Misleading our nation into war in Iraq makes you unfit to lead our country. Doing nothing while this nation loses millions of jobs makes you unfit to lead this country. Letting 45 million Americans go without health care for four years makes you unfit to lead this country.

"Letting the Saudi royal family control the price of oil for Americans makes you unfit to lead this country. Handing out billions of dollars in government contracts without a bid to Halliburton while you're still on the payroll makes you unfit lead this country.

"That, my friends, is the record of George Bush and Dick Cheney - and that only begins to scratch the surface."
Scratch, scratch, scratch.
Beady-Eyed Vulture Nervously Perched Atop Mt. of Corpses
Thursday, September 02, 2004
"I don't know that."
Umbric Objection
Two Images
Whores, etc.
AmCop Exclusive: The Faces of the GOP
Fwd to Kerry Camp
"Regurgitating old controversies"
Wednesday, September 01, 2004
Assholes
Dead Heroes
Tuesday, August 31, 2004
Monday
Monday, August 30, 2004
Blood lusting missile fetishizers worship at orgy of destruction
And Back by Popular Demand...
New York: "I'll Be Here (Hopefully) Long After Bush Is Dead"
Sunday, August 29, 2004
The Shit Begins: Imagine Festival