Saturday, January 08, 2005
You know you're going to die when...
Frist out-assholes DeLay (for a day, at least)
Bill Frist
(the author of
Good People Beget Good People
, a book about himself and his family) took a day off from
dismantling the Senate's procedural rules
to take a photo-op trip to Sri Lanka with colleague Mary Landrieu to grandstand, waste money, and hamper relief efforts.
Some highlights of their trip,
from CBS
:
Sen. Bill Frist, R-Tenn., a medical doctor and Sen. Mary Landrieu, D-Louisiana, visited tsunami-stricken southern Sri Lanka on Thursday, tying up two of the five U.S. Military helicopters presently available, reports CBS News Correspondent Allen Pizzey.
…

Just before his helicopter lifted off, Frist and aides took snapshots of each other near a pile of tsunami debris.

"Get some devastation in the back," Frist told a photographer.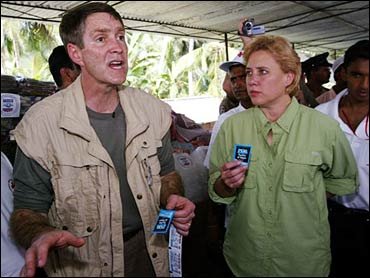 "I am good because I come from good people," Frist explained to flood victims.
Friday, January 07, 2005
Propaganda Twin Bill
New Delay/Tsunami Thread
Left/Right
Belated Christmas Tale
Wednesday, January 05, 2005
Keep this story going
Tuesday, January 04, 2005
Iraq: A Primer
Choice words…
Monday, January 03, 2005
The Origin of Species
Sunday, January 02, 2005
Bush, our blow-up doll :: We, Bush's blow-up doll