Wednesday, February 02, 2005
Why are these Nazi thugs so obsessed with purple?
Groundhog Day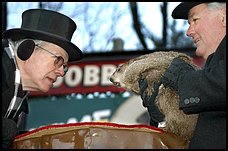 I feel like this tradition is getting a little stale. Doesn't everyone think it's time to update the principles of
Groundhog Day for the Bush era
? Some brainstorms:
1. Rather than looking to see whether the groundhog has actually seen his shadow or not, just decide which outcome you prefer, and announce that.
2. Bless the groundhog, then bless it again by subjecting it to "the ultimate punishment."
3. Remove groundhog from its burrow in oak stump; check to determine groundhog's values; if groundhog is found to have been recruited into the gay lifestyle, bless, then execute.
4. If weather is foul or crowd is in a bad mood, call the groundhog a faggot, then blow it away with assault rifle.
5. Remove groundhog from stump, declaring that it, like all God's creatures, yearns for freedom. Bless, execute.
Any other ideas?
Update--
The Fixin's Bar
adds:
6. Sodomize animal. If its mammalian grunts seem to indicate some degree of pleasure, overturn womans right to vote.
7. If groundhog is believed to posses ethnic features, close all libraries.
8. Put hood on groundhog, have ceremonial parade-master Lyndie England lead it around on a leash. Place animal in burlap sack, have children of select cabinet members hit sack with brick.
9. Order the groundhog to "evolve." If he fails to, place any book-owners on a government monitored "sin-list."
10. Dress groundhog in a custom-tailored camoflouge military jump-suit. Hit animal with bat; photograph President attending the groundhog's spotaneous funeral and welling up with tears. Declare "Groundhog Day" is now to be known as "Hero-hog Day"
Harry
adds:
11) "Waterboard" the groundhog, then put underwear on its head and force it into a pyramid pile of other groundhogs who have been similarly treated.
12) Cut off its paws, then send a CNN reporter to ask if it appreciates what we've done to liberate it.
From
Scats
:
13. If groundhog sees shadow, keep in oak stump indefinitely without access to counsel. If groundhog does not see shadow, do same.
14. Develop low-yield "stump-buster" nuclear weapon to smoke groundhog out of its hole.
15. Pull groundhog from hole, proclaim America safer now that groundhog is in custody, invasively medically examine groundhog on national television while loudly deploring groundhog's lack of respect for groundhog dignity.
16. When groundhog fails to see own shadow, proclaim a "mandate" for an early spring. Boast that you've earned meteorological capital and intend to spend it. Suffer eternal winter.
17. Nominate and confirm groundhog to Cabinet post regardless of groundhog's dismal track record and lack of any relevant qualifications. Discuss with knitted brow in Washington social circle for approx. one week. In haze of solipsism promptly forget groundhog is eating roots of your garden. Suffer death.
Brilliance
Tuesday, February 01, 2005
Peachy-Sweet Democracy
Annular Flashback...
Monday, January 31, 2005
Teach your children well