Saturday, July 24, 2004
WHY Has Condoleezza Rice Not Been Charged With Perjury, Or At Least Fired?
Everyone Knows Bush Is a Snivelling Coward
Bush Campaigns in Jerusalem
Friday, July 23, 2004
USA Snapshots: A Visual Stethoscope on the Pulse of America
Thursday, July 22, 2004
See a true American patriot in person
WHAT THE CHRIST?
Quote of the Day
Bush is an oblivious infantile brat
Wednesday, July 21, 2004
Bush spawns oblivious infantile brat
Perplexing expression of political consciousness by a professional athlete
The "W" stands for "Washington".
"…bad language, bad humor, being evidenced in all quarters…"
More on those "10 Out of 10 Terrorists…" shirts
In the column referenced below by speakingcorpse, Paul Krugman mentions the new G.O.P.-sanctioned bumper stickers being distributed in Kentucky that read: "Kerry is bin Laden's man/Bush is mine."

Of course, it was AmCop that broke the story last week about an outfit called AuthenticGOP.com that sells t-shirts that read: "10 Out of 10 Terrorists Agree Anybody But Bush."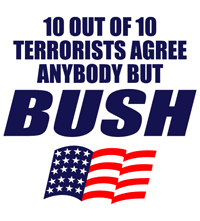 At the time, I wondered aloud whether or not the enterprise was affiliated with the Republican Party. To find out, I posed as a dim-witted prospective AuthenticGOP customer and wrote to both AuthenticGOP and the "real" GOP.
The following are actual transcripts of my communications:
To AuthenticGOP:
Subj: awesome shirts!
Date: 7/12/04 7:43:19 PM Eastern Daylight Time
To: info@authenticgop.com

Dear Authentic GOP:

I love your 10 out of 10 Terrorists tee shirts. They are awesome! I am totally going to get one.

When I buy one, do the proceeds go the election campaign or to the Republican party? Are you guys part of the GOP?

Keep up the good work.

Bush-Cheney all the Way!

-[Dawkins]
AuthenticGOP responds:
Subj: RE: awesome shirts
Date: 7/13/04 9:59:29 PM Eastern Daylight Time
From: agop@integrity.com

[Dawkins],

All the profits go to me... But as a republican I give my money to variousthings I'm sure you'd be glad to support, for example the freedom alliancefoundation.

I'm just a guy who came up with a slogan in response to the "anybody butbush" slogan, and I must tell you it has become a huge national hit...Thanks for your support.

[AuthenticGOP]
Then, to the "real" GOP:
Subj: AuthenticGOP.com
Date: 7/13/04 3:29:04 PM Eastern Daylight Time
To: info@gop.com

Hi GOP:

Are you guys affiliated with the merchandise website AuthenticGOP.com, which uses your logo to sell GOP-themed products?

I want to show my support for the President by wearing GOP merchandise, and I like the products for sale on AuthenticGOP.com, but I want to make sure my money is going to the GOP.

Thanks for your help.

[Dawkins]
The GOP responds:
Subj: RE: AuthenticGOP.com
Date: 7/14/04 2:13:33 PM Eastern Daylight Time
From: info@rnchq.org

We are not affiliated with this website however that does not mean the money would not be well spent. Our only affiliated seller of campaign merchandise is the george w bush store at www.georgewbushstore.com

Sincerely,
RNC
Frankly, I don't buy the denials, and even if the denials are true, what are they denying?
Whether it comes from Condi Rice, David Brooks, Tom Ridge, AuthenticGOP, the national GOP, or the Kentucky GOP, it's all the same message: a vote for Kerry is a vote for the terrorists.

We're going to hear lots more of it from here on out.
Lying bleeding in a ditch, praying to Jesus for the end of welfare...
Tuesday, July 20, 2004
In Celebration of AmCop's Successful Struggle Against Adversity...
Problem Fixed
Monday, July 19, 2004
Alert: Website Trouble
Sunday, July 18, 2004
What's a few dollars when you're banishing evil from the world?